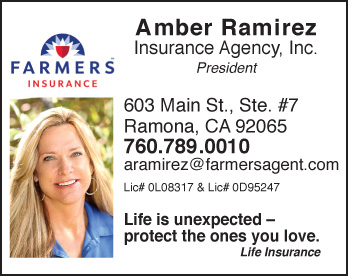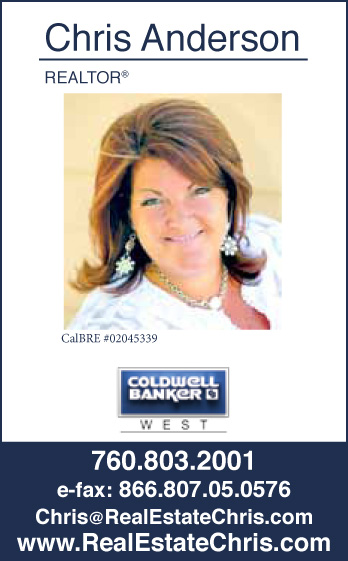 Real Estate Directory
Big Block Realty
Rebecca Costello
2120 Camino Del Rio S., Suite 314
San Diego CA 92065
Phone: 760-420-2325
Century 21 Award
1306 Main Street
Suite 101
Ramona, CA 92065
century21.com
Century 21 Award — Barbara Jensen
Phone: 760-283-8124
Mobile: 760-504-6648

Century 21 Award — Patti Guerrero
Phone: 760-789-9603
Mobile: 760-803-0614

Century 21 Award — Tracy Rolling
Mobile: 619-884-7526
Coldwell Banker West
Chris Anderson
2130 Main Street
Ramona, CA 92065
Phone: 760-789-2110
Tel: 619-647-9775
Ramona Real Estate Brokerage
Paul Tarr
17230 Amarillo Road
Ramona, CA 92065
Phone: 760-789-4000
Town & Country Property Management
1410 Main Street
Ramona, CA 92065
Phone: (760) 789-7872
Town & Country Real Estate and Home Loans
976 Main Street
Ramona, CA 92065
Phone: (760) 789-9995
A Community of Plentiful Home Options
People move to Ramona for a lot of reasons, including good schools, horse property, a country look and feel, space to breathe, or perhaps to start a vineyard or winery. In fact, Ramona is one of just a few areas in the county officially recognized as an American Viticultural Area and boasts some award-winning wines.
Our location in the foothills, in the center of the county, gives us easy access to more metropolitan areas "down the hill," as well as the mountains and desert. Quick access to public lands provides ample space to ride horses, hike, fish, hunt and enjoy motorized toys. When the coastal areas are shrouded in a marine layer, we, more often than not, are basking in sunshine.
Whatever type of property you might be looking for can probably be found in Ramona. Properties with a home, or simply raw land, may be found in the smallest of sizes, or even hundreds of acres. Most properties are zoned for the possibility of horses and agriculture, and some feature the expanded privileges of the coveted "0" designator that includes many more options.
There are a lot of communities and neighborhoods to choose from that stretch from the Poway border to Santa Ysabel. San Diego Country Estates, Rancho San Vicente and Mount Woodson are popular areas for new residents who like our foothills community but still want a suburban feel. The communities of Rancho Santa Teresa Estates, Oak Tree Ranch, Black Canyon Estates and Holly Oaks Ranch are also in demand, and many offer larger parcels.
If you are looking for a place of your own here, consider using a local agent. We know how to deal with the uniqueness of our rural properties.
Visit RREA.org to see a list of Ramona Real Estate Association's local member Realtors.
By Mark Garrow, President of the Ramona Real Estate Association