Calling All Outdoor Adventurers
Hiking for all levels ~ Epic Trails
— Megan Peralta
The Ramona backcountry offers visitors an array of outdoor activities, including a number of great hiking trails for those on horses, bicycles or their own feet. Leashed dogs are allowed on select trails. Some of the parks allow free entry, while others require an inexpensive permit for individuals and groups.
Trails range from relaxing to rigorous, but hikers should always bring plenty of water and be aware of the danger of heat exhaustion.
Several county and state parks are open to visitors year-round, from 8 a.m. to sunset, unless otherwise specified. Some parks, however, enact summer restrictions due to extreme heat.
Some trails pass through Cleveland National Forest territory, where many of the trails were used by native tribes such as the Kumeyaay, Luiseños, Cahuilla and Cupeño.
KNOW BEFORE YOU GO
Bring an ample supply of water of each member of your party, and remember to hydrate before and after you hike.

Wear comfortable hiking boots or sneakers.

Wear a hat and apply sunscreen to avoid sunburn.

Inform someone of your destination and planned return time before heading out.

Be wary or rattlesnakes and other wildlife, especially when they are most active in the morning and evening. Watch your footing and do not put your arms or feet in places that you cannot see.

For more tips on staying safe during your hike, visit sdparks.org.
Mt. Woodson Trail & Potato Chip Rock
Access: Street parking along SR-67. Use caution when parking and exiting vehicles.
Length and Elevation: 11 miles of trails between Ramona and Poway, 1,000 feet to 2,400 feet.
Access: Trailhead is open at Thornbush Road in Ramona; visitor use permit and photo ID are required at all times — visit recreation.gov. Access also available from the Saddleback Trail parking area off Eagle Peak Road in Julian.
Length: 5.2 miles round-trip. Return hike is uphill and challenging.
Ramona Grasslands Preserve
Access: Highland Valley Road, off SR-67. Trailhead and staging area are east of Archie Moore Road.
Length: 4-mile-long loop trail on 480 acres in the western portion of a 3,521-acre preserve.
Mt. Gower Open Space Preserve
Access: 17090 Gunn Stage Road. From State Route 67, take 10th Street (becomes San Vicente Road) south 6 miles into San Diego Country Estates. Turn left at Gunn Stage Road, go 1.8 miles to the entrance of Mt. Gower Open Space Preserve. Restrooms and drinking fountain at staging area.
Length and Elevation: 4.8 miles of trails, 1,625 feet to 2,650 feet.
Access: 1500 Deviney Lane. From SR-67, turn south on San Vicente Road/10th Street to Deviney Lane, turn right.
Length: 4 miles of multi-use trails include Valley View Trail, Overlook Trail, Rattlesnake Trail and Oak Loop Trail.
Access: From SR-67 take Dye Road to the Holly Oaks Staging Area on the south side of Dye Road at Southern Oak Road.
Length and Elevation: 2 miles one way, 1,430 feet to 1,480 feet.
West Access: Take SR-78 toward Santa Ysabel. The trailhead and staging area are 1.4 miles before the town of Santa Ysabel. Trails open year-round, seven days a week from 8 am to sunset. Closed after rainfall or snow.
Length: 1,512-acre preserve with more than 4 miles of multi-use trails.
Access: 17953 Dos Picos Park Road. From SR-67 (Main Street) in Ramona, take Mussey Grade Road, continue 1.1 mile, turn right on Dos Picos Park Road to park entrance.
Length and Elevation: Nature trail length is about 0.5 mile, 1,506 feet elevation.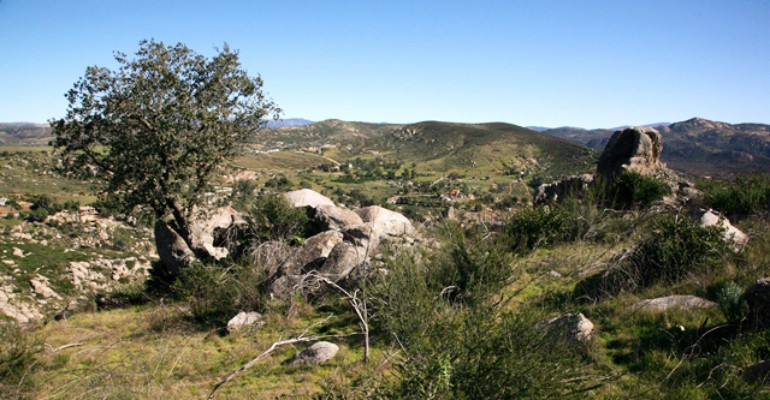 Access: 23500 Bassett Street. From SR-78, take San Vicente Road/10th Street south, turn left on Arena Drive, left on Spangler Peak, then right on Bassett Street.
Length: 5 miles of rocky, multi-use trails on 650 acres
Access: Parking lot at the intersection of SR-67 and Poway Rd., street parking along SR-67. Use caution when parking and exiting vehicles.
Length: 5.2 miles one way, 1,102 feet elevation.
Ramona Community Park Trail
Access: From Main Street (State Route 78), turn north on Fifth Street, right on Aqua Lane, and take third driveway on right. Length and Elevation: 5 miles of trails, 1,425 feet to 1,515 feet.
Get to Know Our Trails
Get familiar with the Ramona hiking experience by browsing our recent features on local hikes and trails.